Alibaba.com - Leading online B2B Trade Marketplace
Alibaba App – Your Chance to Buy Products at Wholesale Rates
Are you a small business looking to connect with suppliers in other parts of the world? Do you wish to buy products at wholesale rates? If yes, then the Alibaba app is exactly what you need. Alibaba.com – Leading Online B2B Trade Marketplace is a nice app which allows you to buy all kinds of products from wholesale sellers from all over the world. It lets you view products from different angles and find minute details about them. There is comprehensive information available regarding the seller as well. You can also make inquiries about the products from the sellers and ask for quotes. The seller can contact you via an in-build messenger option. You can discuss the details of your order and the customization you want in this messenger section.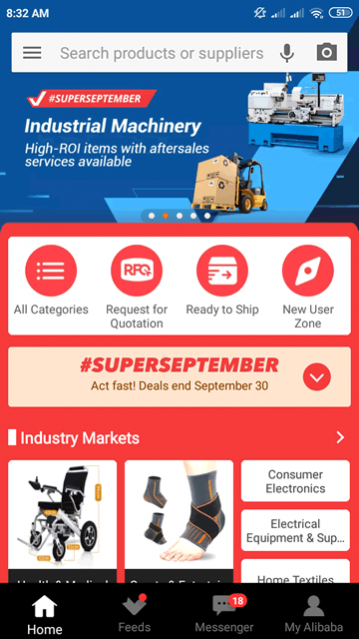 Alibaba.com – Leading Online B2B Trade Marketplace has an intuitive user interface which goes along nicely with its user-friendly design and layout. The products available on the Alibaba app are divided into various product categories. So, it is easy for you to sort through the products and find the one that you are interested in. If you can't find what you are looking for, there is a search option provided in this app too. You can type the name of the product in the search box located at the top of the app's home screen. Aside from products, you can also use the search box to look for sellers that you want to do business with. Searches can be made using voice commands too.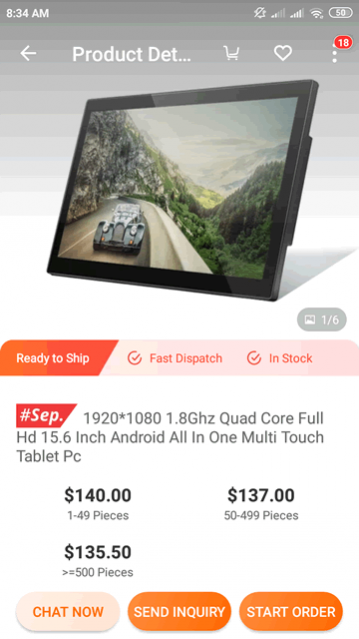 The Alibaba app lets you view the products you are interested in. You will find photos and videos of the product provided by the seller. There are multiple photos available which allow you to view the product from all angles. In addition to the photos, there is a detailed product description provided for each product. It informs you about the minute details of the product as well as the seller that is offering them. Among the product details, you will find information regarding its features, warranties and its estimated price. You will have to make inquiries about the product to the seller if you want to get more information. If you want to find the exact price of the product, you will have to ask for a quote.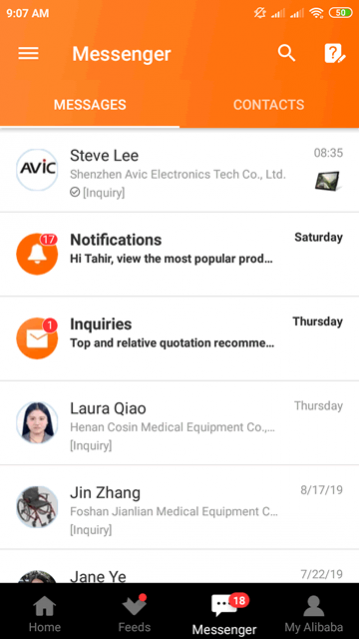 Alibaba.com – Leading Online B2B Trade Marketplace assures about the safety of your money through its Trade Assurances feature. This feature ensures that your purchase is covered by Alibaba in case the seller isn't able to meet your requirements. So, you can shop without having any fear. Alibaba has a messenger option available too which lets you stay in touch with your seller all the time. You can follow up with them any time and find out when your product will be shipped to you. Alibaba has partnered with all the major shipping companies to ensure that products are timely delivered anywhere in the world.
Features:
Intuitive user interface
User-friendly design and layout
Lots of product categories on offer
View products of all kinds from various sellers
Detailed product descriptions available
Complete information of the sellers provided
Contact the seller via chat before ordering
Option available to make inquiries about products
Ask for quick quotations from the sellers
Trade Assurances to ensure that your money is safe
Supports multiple languages
Conclusion:
Alibaba.com – Leading Online B2B Trade Marketplace is an app which is designed for businesses who want to purchase items in bulk quantities directly from suppliers. It offers them the chance to view products from many different wholesalers, chat with the company's representatives and place orders after making inquiries. Alibaba app is an excellent app and you should have it on your phone if you want to buy products at wholesale rates.
---
Add a review
Tell us your experience with
Alibaba.com - Leading online B2B Trade Marketplace
RELATED PROGRAMS
Our Recommendations
---
---
---
---